Excited to welcome our new customer, Bellaire, Texas
More than a hundred years ago, this east Texas town was incorporated by a railroad executive specifically as a residential destination. Today, Bellaire is still known as the "City of Homes," now for nearly 20,000 residents just a stone's throw from Houston.

And we're excited to announce that Bellaire, Texas is now part of our booming Texas customer base.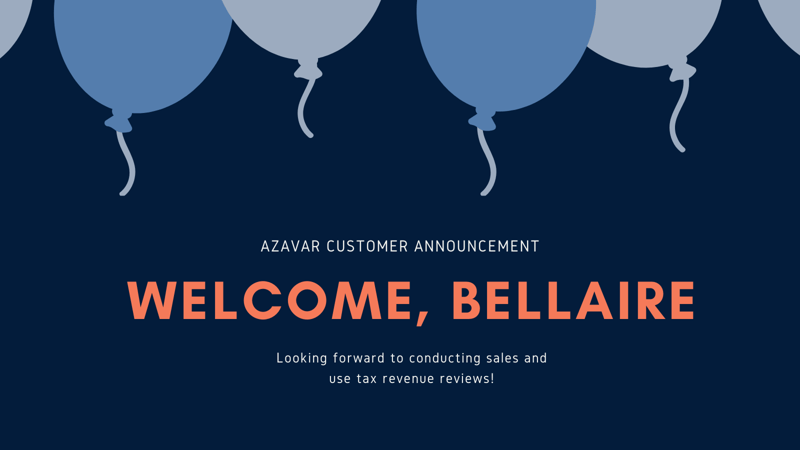 Our local-government revenue team is excited to get to work for this community and make sure Bellaire is getting all the revenue it's due. Plus, we're able to provide Sales/Use Tax reports through our Localgov platform so local leaders can make accurate, informed choices about the city's financial health.

When's the last time your finance department double-checked incoming revenue? Here's a PDF checklist that points you to trouble spots, such as franchise fees, irregular borders, short-term rentals, and more.
Some Bellaire highlights:
Want to be outside? Head to Evelyn's Park Conservancy, located on the site of Bellaire's first business, a plant nursery. Talk a stroll, experience butterflies up close, take a fitness class, or listen to live music. It's a lovely nature-filled space for all ages.
No need to head into Houston to have a haute bite. Bellaire's home to a wide array of tasty eateries, from date-night spots such as Costa Brava Bistro, smoked-meat delicacies from Charlies Bar-B-Que, and light morning bites from Dandelion Cafe.
For its size, Bellaire boasts a host of notable names, including Brent Spiner, best known for playing Data on Star Trek: Next Generation, and movie stars Randy and Dennis Quaid.
How can Azavar help your Texas community?
We have performed compliance audits for more than 450 cities across the country, including many in Texas. Here are just a few of our newest Texas customers enjoying our services—at the lowest contingency rates in the state:
Bellmead
Longview
Pleasanton
Sunnyvale
Texarkana
Let's get started reviewing your Texas sales and use tax, franchise fees, utility user taxes, franchise fees, short-term rental taxes, and a whole lot more.

Schedule a local government revenue consultation with Texas team lead Ted Kamel today to learn about our 360 Degree Revenue Cloud approach.